Mid Level
Overview:
The Mid-Level Photography course is designed for those who already have a basic technical grasp of their DSLR camera, understand the basics of critical photography theory and visual narrative, and would like to sharpen their understanding and proficiency in these areas. Class time is 1 day per week, allowing plenty of independent time to research and photograph.
Modules:

Portraiture
Landscape
Still Life Photography
Visual Narrative
Critical Theory
Visual Studies
Requirements:

DSLR/SLR/mirrorless/compact cameras with the possibility of manual control
laptop
Dates/Times:
Duration: 5 months - 20 weeks
Dates: 19 April 2023
Times:
1 day per week class time - 10am to 3pm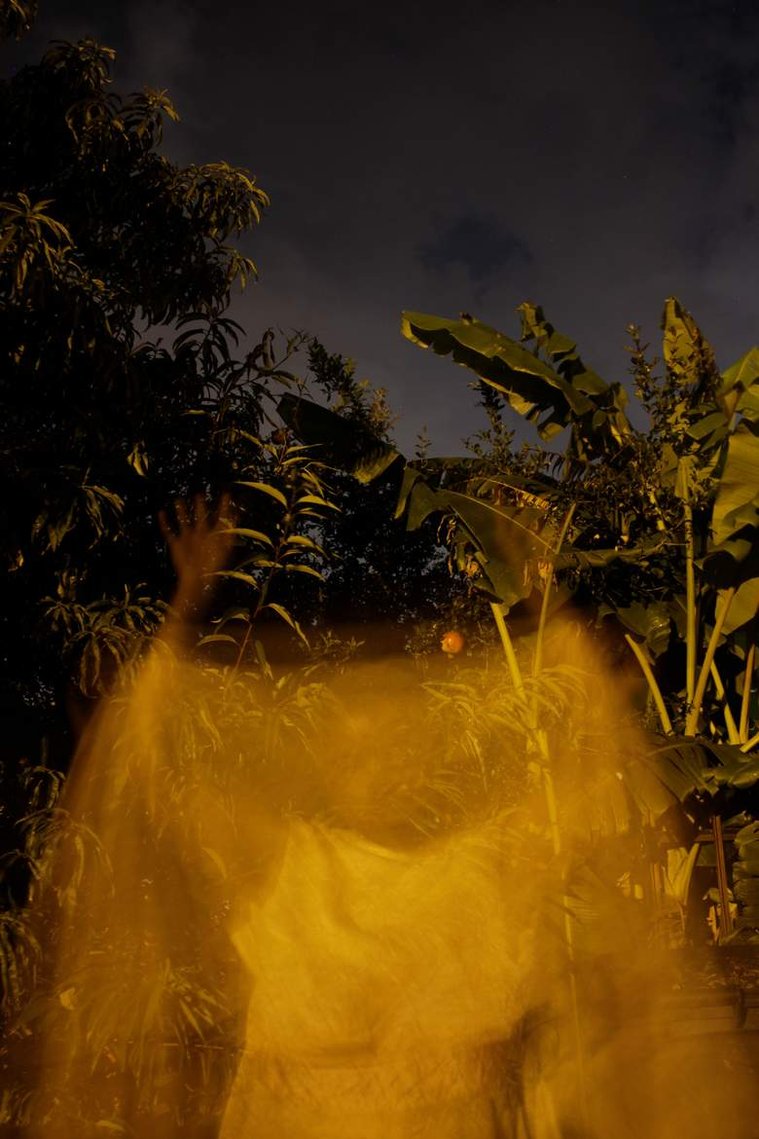 Cost: R6 800 plus (R1 200 registration fee)
Payment Options:
1) Payment in Full
2) 2 Payments
Registration fee and 50 % + Balance (R 3 750 + R 1 500)
3) Monthly Payment
(R 1 200 + R 1 100 per month x 5 )
NB. All registration fees to be paid before commencement of course, all outstanding fees to be paid before end of course.
Image by : Lusanda Mdluli
Mid Level students Jan 2022
LUSANDA MDLULI

UMZIMBA
My body of work is an endeavour to understand the relationship between the body & mind/memory,
how one's cultural/religious/social upbringing can influence the way in which they see themselves and
the world. My work addresses my relationship with my own body, as well as societal perceptions and
notions around the female body in general. Using myself as the subject to grapple with issues of
representation, the monochrome feel is a very deliberate way of centralising form. My process
includes the layering of images, and a digital double exposure method to evoke the complicated,
intricate and often distorted web of emotions that live between me and my vessel.
I had always felt that I have to become something or someone I wasn't, someone I was taught to think
myself to be. My mind was never in one place, due to my own self -doubt and anxiety. These images
were created in moments where my mind was finally at rest, reflecting my inner process of unlearning,
healing, unbecoming and resting.
KWAZOKUHLE PHAKATHI
STAR!BANI?

STAR!BANI? (2022) is a photographic series by visual artist Kwazokuhle Phakathi, in which they aim to explore the complex duality of black queer life, in relation to community and the personal journey of self discovery - set in the political landscape that is the South African township.

His work investigates the contradictory experience of community - from navigating physical space as a queer person, sometimes having to 'hide' your sexual or gender identity due to the prevalent phobia and violence towards LGBTIQ+ youth in society, even though protected by the constitution of the country - to the other inner sense of 'belonging', retrieved from a personal acceptance, and by the community one finds kinship with.

STAR!BANI? is a response to an inner dialogue about identity, and examines elements of manhood, intimacy, femininity and freedom.

The series derives its name from the Zulu word 'stabane', commonly used as a homophobic slur for a gay man. The artist doesn't attempt to reclaim the word, but rather to re-invent it as one part affirmation and one part as the question: 'who are you?', triggering an immediate observation of the self.

BONOLO TLHOLOE
Its been a year and three months since I moved to Johannesburg city from Mabopane in Pretoria
North. Often alone, and working at an express delivery company, I've gained access to all sorts
of places. In my journeys across Johannesburg I've observed what appears to me as curious and
obscure spaces and infrastructure; affected by human presence and alteration. Each day I am
fascinated by the complexity of the scenes I encounter and the social dynamics they might
represent. These photographs form part of my personal exploration of the city, and the search for
my place in it.
NOMONDE KANANDA
IMBEWU
I am gifted. This is what I have been told and this is what I am experiencing. I see, touch, feel, taste and hear beyond my physical existence. Visions, trances, dreams that are actually reality. This is my reality. People I know, and People I don't know. Spiritual beings. Water. Mountains. Land. Sea. These spaces are natural spaces, but they are also thresholds for doorways leading to spaces beyond what is seen by the naked eye. In this work my aim is to make sense of this world that has opened itself to me. The more it opens up, the deeper I go, the more I am confronted with familiar feeling after familiar feeling, the more I realize, I have always been here. Imbewu. The Seed. Planted long before I was born, transcending from generation to generation. The gift has been passed from generation to generation and when it was my turn to face it, I had no choice but to accept it and allow all these natural elements to help it grow. Water. Earth. Wind. Fire. I have no choice but to allow these elements no matter how they present themselves, to help the gift grow. The gift is me and I am the gift. When the gift grows I grow. When I grow the gift grows. This is the seed. Encompassing the physical and the intangible, the seen and the unseen. This is the journey. Imbewu.
Nomonde Kananda
This course has opened my mind in so many ways. I have learned the importance of photography as a medium,as well as the importance of knowing my role as a photographer in my country and my continent. I have learned that as an artist, it is important to have an awareness of issues around access, positionality and representation. It is important to realise who is photographing who, and who has access to photograph in certain spaces.
As Photographers in this day and time, it is our right and our responsibility to continue as well as initiate conversations that will lead to real change in our individual and collective human experiences.At TTLC I have learned that there are no limits. I have learned to explore as much as I can creatively. I have learned that it is important to create beautiful images, but it is also important to create meaningful images.
I have learned to be patient with myself and to be patient with the process of creating work. We also have time in class when we meditate and allow ourselves to find the inner silence we need to connect to and understand our own unique way of seeing.
Our Mentors, Michelle Loukidis and Michelle Harris have also been very helpful in guiding us through the professional practice side of the craft. Through TTLC I have received an opportunity to be a part of two group exhibitions this year and they were very helpful in guiding me about printing, framing, biography, artist statement as well as pricing.
I feel safe to express my thoughts, emotions and experiences at TTLC. Our Mentors approach our work with respect and sensitivity. They seek to understand each subject matter to the best of their ability, and for this I am very grateful.
Kwazokuhle Phakathi
I came to Through The Lens Collective having a basic understanding of photography and wanting to expand that awareness further. The guidance and support has helped me to find my voice in this medium, and has made me feel more confident in myself and the work/world that I'm creating. Beyond the creative, the experience made me aware of what it takes to be a working artist, especially when it comes to time management and professional practice.
Bonolo Thlohoe
My relationship with TTL comes a long way and still is going strong.TTL had welcomed and showed love from day one, I was a self- taught photographer not knowing what to say about my work, I then decided to study a Mid- level course at TTL and about to be done, looking forward to the Advanced Course.
My experience was a bit tough by not knowing what I want to say with my work, I really found that there's a lot of context within photography, which awakened and broaden how photography plays a huge role in mankind, all thanks to Michelle H and Michelle L. Really am honoured! Thank you for the great skills and knowledge you've imparted in me!
Mallisa Lenong @mallisalenong
Mallisa Lenong - I recently completed the Mid-level course at Through The Lens Collective and had the opportunity to work one on one with Michelle Harris and Michelle Loukidis. This course has crafted me more holistically as a photographer and somehow made me become aware of myself and my surroundings. I've not only gained a better understanding of the technical aspects of photography, but now I'm also able to understand the language and narrative around photography in a broader context. With continuous support from my facilitators, I managed to broaden the scope of ideas I'm exploring with my work.
Ndumiso Verity Bhengu - Being at TTL for the Mid- Level Course has been quite a good experience, particularly because of the kind of work that I was assigned with. Exploring different genres has been the highlight because I always strive to go broad in exploring different genres of photography so that I learn how to go about each one of those I come across. Working alongside my fellow classmates was cool because I had the chance to be inspired by different styles of photography from each individual and also gain more knowledge about my own style.
Lerato Khumalo - My experience at Through The Lens Collective was a great one. I was afforded the freedom to play around and experiment with my work. I was allowed to be as expressive as I could with my work and all parts of my expression were welcomed.
Simphiwe Majozi - I am honoured to be mentored by TTL, thank you for the great skills and knowledge you've imparted to me. Last year in 2021 I opened ''Inhlambululo'' my debut solo show at the Springs Art Gallery in collaboration with Through The Lens Collective and the City of Ekurhuleni. I deeply appreciate Through The Lens Collective and value everything I have learnt.
Please note all courses will be online in the event of another Covid 19 lockdown